"Never give up! Failure and rejection are only the first step to succeeding." – Jim Valvano
Managing the sporting environment
It is rare now that high performance athletes have just a coach-athlete relationship as the only one which they have to engage in. Many of the relationships are managed by the coach or manager but there is  a vast array of people that have an influence in an athletes sporting career. Here is just an example of the different support staff in one athlete's entourage.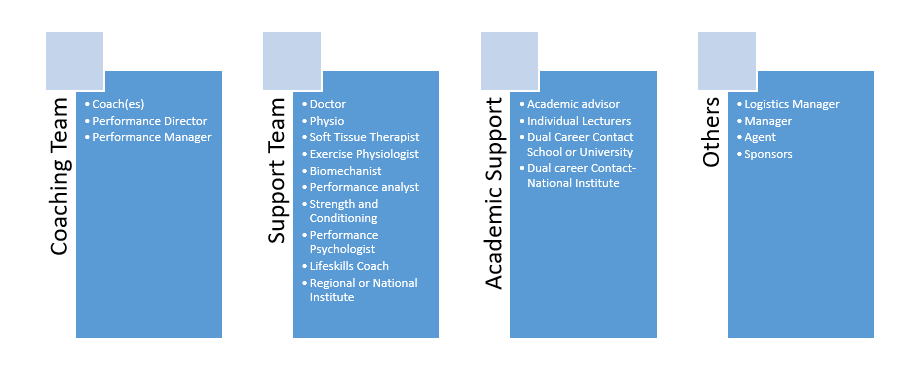 The coach or manager is critical to this and an athlete and Parent/Guardian should expect that the coach understands and supports the importance of the Dual Career, actively encourages academic engagement and excellence, provides flexibility in training schedules to accommodate academic demands, incorporates any additional academic demands e.g. exam time into training load.
Communicating with coaches
Whose job is it? Especially early in the transition from coach to coach, junior to senior, to a centralised program or from school to university, a young Dual Career athlete may find it difficult to have difficult conversations with a coach or an academic, here are some tips on how you can assist or "train" the Dual Career athlete in having those difficult conversations. It's an important skill to develop not just from a personal point of view but from the aspect of developing into an independent person on and off the field of platy and its implications for performance.
Tips on managing difficult conversations
Keeping communication open and honest on an ongoing basis usually means that you have less difficult conversations to have.
If you have to have a difficult conversation, be calm, clear direct and unemotional.
Plan, what you are going to say broadly. Don't have it rehearsed or a script because what if you get thrown off script. Have a few key points you want to make.
Do try and be empathetic and understand the other side of the argument.
Listen, don't interrupt.
When making your point, slow the conversation down, be calm, concise, clear and firm.
Where possible compromise, but always try to be constructive.
Bullying & unhealthy performance environments
Parents/ Guardians, athletes and coaches should always be aware of the importance of a healthy environment for all to participate in sport. It shouldn't come as a surprise to anyone that it happens in elite sporting environments too. The link below looks at bullying in elite sport from a legal and social point of view. If best practice isn't happening in your sport, in your country, be a force for change.
For more information on best practice see https://www.lawinsport.com/topics/item/tackling-bullying-in-elite-sport-best-practice-for-sports-organisations
Anti doping awareness checklist
The World Anti Doping Agency (WADA) produces a guide for Parents/Guardians seeking more information to ensure healthy athletic development and prevent the use of performance enhancing substances. This resource is relevant to parents of all levels of athletes from beginner to elite. WADA recognizes the key role Parents play in forming athletes' attitudes to doping and athletes often turn to them for advice. To find out more visit https://www.wada-ama.org/en/education-tools